DELIVERY & PICK UP
Where do you deliver/ship and how much does that cost?
Local flower deliveries in Parksville $15 
Qualicum Beach & Nanoose Bay $20  
North Qualicum/Dashwood/Bowser $25  
Lantzville $25 
Nanaimo $30 
South Nanaimo (South of Northfield Rd.) $35 
Port Alberni $45 

Other areas please contact us 250-927-1416. Pick up is available at our studio at 1304 Coldwater Rd. Parksville BC 

If a second delivery attempt at a later date is absolutely necessary, an additional delivery charge will apply. 

Accessories such as vases, tools and candles can be shipped to locations across Canada, the US, and select global addresses. Accessories will be shipped using Canada Post and the cost will be calculated at checkout based on the item and shipping address. If you order an accessory along with flowers within Greater Vancouver, it will be delivered along with your floral delivery. Orders outside of Greater Vancouver will be shipped each Saturday. Thank you for your patience. 

When will the flowers be delivered?
Local deliveries will be delivered between 12:00 pm - 6:00 pm on the order date selected. If you require a special timed delivery (for example, must be there before 3:00pm), please get in touch via email (rebecca@evokefloral.com) as there will be an additional fee for us to arrange a special courier. Same-day orders must be place by 1:00 pm and will be delivered between 1:00 pm and 6:00 pm.

Accessories orders outside of our listed delivery areas will be shipped each Saturday. Thank you for your patience. 
Can I place an order for pick up?
Yes, definitely! Please place your order online and select "Store Pick-Up" and specify your preferred pick up time and date. Orders for same-day pickup must be placed by 1:00 pm and will be ready for pick-up between 1:00 pm and 5:00 pm. You will receive an email when your order is ready for pick-up. 
What if the recipient is not home?
If the recipient is not home at the time of delivery, our couriers will do their best to get in touch with the recipient for next steps. Since we pack all our deliveries in water, they can be left lat the front door if deemed safe, or with a concierge/reception desk when available. If a second delivery attempt at a later date is absolutely necessary, an additional delivery charge will apply. 
Do we deliver to hospitals and nursing homes?
Yes we do! In order to ensure your order arrives safely, please include all applicable information so that we can get the flowers to the recipient smoothly. 

RETURNS & EXCHANGES 
Our flowers are arranged with love and care. If you are not fully satisfied with your arrangement or accessory, we will work with you to provide a replacement, or issue a gift card. Please contact us at rebecca@evokefloral.com within 24 hours with the order details and an image of your flowers. 

GENERAL FLOWER INFO
What flowers will be used in my bouquet or arrangement?
We are known for our natural, freestyle approach to floral design, one that uses seasonal ingredients to inform design. We work with many local growers as well as our wholesalers, we choose each design based on floral availability, what is looking best at any given time! 
What is the difference between a hand-tied bouquet and an arrangement?
A bouquet is designed in hand and tied, the stems are wet wrapped, and the entire bouquet is wrapped in our signature biodegradable paper. It will need to be placed in a vase of water upon receiving the bouquet (unless it's a dried bouquet!), a vase can be ordered with the arrangement. A floral arrangement is designed in a container vessel sized/colour is according to the arrangement ordered.  
Can I request specific flowers, colours, or other modifications to my order?
Our bouquets and arrangements are created using a range of seasonal and local flowers at the designer's choice. Please reach out to us at rebecca@evokefloral.com if you would like to discuss commissioning a custom bouquet or arrangement, or for special events. 
How do I look after my flowers/plants after receiving them?
Once you receive your bundles of beauty, unwrap the bouquet from wet wrap and papers, giving the stems a sharp angled cut and placing in a clean vase, full of fresh water. Change water frequently, always recutting the stems. It is best to keep out of direct sunlight and away from hot and cold drafts.

WEDDINGS & EVENTS  
How do I book a wedding with Evoke Floral?
Please fill out the quick questionnaire on our website. One of our team members will be in touch! 
Do we have wedding packages?
At this time, we offer an elopement wedding package. Every wedding is different, so we prefer to cater to you and work with your personal style and budget.
How much lead time do you need for wedding bookings?
We request two weeks notice for wedding orders so we can source custom flowers for your design, however we will do our best to accommodate last-minute bookings, if the space/day is available. 
What is your cancellation policy for a wedding or event?
The 25% deposit paid upon booking is non-refundable. In case of a cancellation or date change, please notify us two weeks prior to the event date. We will transfer the remaining amount of the booking - minus 5% admin fee - to a digital gift card to our shop with no expiry date. If the cancellation is within two weeks of the wedding date, we reserve a 30% admin fee, transferring the remaining balance to a digital gift card.
Do you deliver the wedding florals?

Yes! The cost of the delivery of your personal wedding florals to you and the ceremony and reception location will be included in your wedding quote. If you prefer to pick up your florals that can also be arranged.
Do you offer installation services for the wedding florals? 

Yes, we will create a custom quote. 
Can I make special requests for my wedding florals?
Absolutely! Please let us know your favourites and any dislikes too. Each of our designs are one of a kind and personalized for each client. While we can take requests for colour palette and flower type although we reserve the option to substitute as needed based on floral availability, and seasonality.
Can the wedding flowers travel long distances? 

Yes! We do weddings all over Vancouver Island (and beyond) and we ensure your flowers are lovingly wrapped for transport to arrive safely and beautifully. 
If I pick up my florals the day before the wedding, will they still look fresh?
They sure will! Most of our wedding planners and clients prefer their personal flowers the day before their wedding date for a smooth morning. If you need to travel longer distances, we will keep durability in mind in our ingredient selection.

SERVICES WE OFFER
How do I book Evoke floral for an event?
Please email us at rebecca@evokefloral.com and include some details about your upcoming event. 
When will you be offering workshops?
Please subscribe to our newsletter in the footer to be notified of upcoming workshops.
Do you offer floral subscriptions?
We sure do! We have weekly, bi-weekly, monthly, and ANNUAL floral subscriptions to get your flower fix! We also offer weekly delivery to restaurants, hotels, businesses, and residential locations. Subscriptions can be ordered in our SHOP section.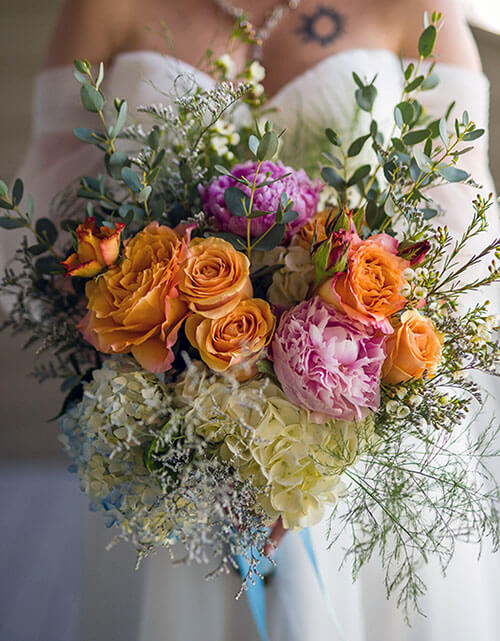 Now Booking 2023~2024 Dates for Wedding Flowers