All plants require water, light, and food, but the trick to success is to practice moderation.
Start with the Soil.
The best growing media is soil-less and is a combination of equal parts peat moss, vermiculite/perlite, and compost.

On Watering
A watering schedule of once or twice a week is suitable for most plants, where you water the plant thoroughly but infrequently. When I water my houseplants, I will pour water onto the soil at a slow, deliberate pace, until the water starts escaping from the drainage holes of the container. That's your signal to stop watering!

Brighten Up!
Houseplants typically require high light (six or more hours a day), medium light (four to six hours a day), or low light (less than three hours a day). Plants will either require bright or direct light (sunlight from a south-facing window) or indirect or filtered light (sunlight through a curtain or light from a bulb).

Fertilizing Time
Although plants carry out photosynthesis to process the sugars they need to survive, they also need a more direct form of food to carry out growing processes. Providing fertilizers to your houseplants helps ensure they will remain happy and healthy.

The food can be delivered via a granule that breaks down over time, or it can be added more directly via a water-soluble fertilizer. Granules generally need to be applied once every few months, while water soluble fertilizers should be applied every two weeks or so.

The Right Temperature, Good Air Flow, and the Best Face

Aim to keep the plant in a warm environment with some air circulation and rotate its face! Almost all houseplants need a minimum temperature of 12ºC to survive. Keep plants away from areas of cold drafts in the winter. The warmer it gets for houseplants, the happier they are!

Airflow is crucial to maintaining a healthy house plant. This can easily be achieved by running ceiling fans in your home to keep the air circulating. Still air, on the other hand, can cause a host of ailments in your houseplant. That's why all greenhouses have those giant fans running. Use a cloth to wipe down the leaves of houseplants occasionally, to prevent the white buildup and coating of dust that can impact their health.

If your plant is in a sunny location, it's important to give it a small rotation regularly to ensure even growth. If you imagine the "face" of your plant is facing the main light source, turn the plant one-quarter turn each week to help guarantee even growth.

Follow these basic tips for Happy & Healthy Houseplants!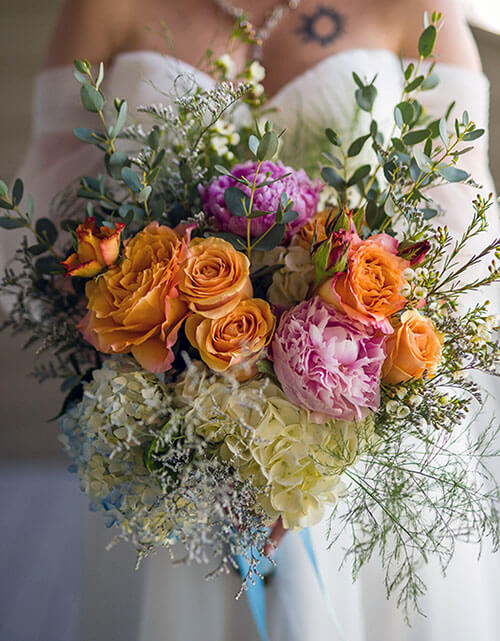 Now Booking 2023~2024 Dates for Wedding Flowers